Stop propaganda or come under fire, Pyongyang warns Seoul
Comments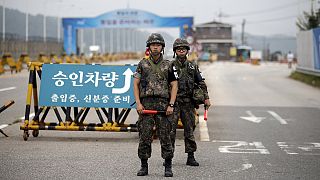 Time is running out for South Korea. The state's northern neighbour has given Seoul until Saturday (August 22) at 5pm local time – or 10.30am CET – to halt anti Pyongyang propaganda, or face military action.
It's now a very grave situation.
Inter-Korean clash has a deadline—Saturday 5 p.m. That's Pyongyang time, in case it's unclear. http://t.co/chpWIC3divpic.twitter.com/StmGUVgJwh

— Jonathan Cheng (@JChengWSJ) August 21, 2015
South Korea's broadcasts have restarted after an 11-year hiatus. It switched back on loudspeakers located on its side of the Demilitarised Zone – known as the DMZ – which separates the two states.
North Korean leader Kim Jong-un put his troops on a war footing on Friday evening local time (August 21).
The Kaesong Industrial Park has had access restricted, with only skeleton staff on duty. Jointly-operated by both North and South Korea, the complex is seen as an indicator of inter-state relations.
Jeong Joon-hee, spokesman for the South Korean Unification Ministry, described the situation as "very grave."
Tensions intensified on Thursday (August 20) when North Korea shelled its neighbour to protest against the broadcasts. South Korea fired back. No casualties were reported.
Tension rises as #Korea response to North's suspected projectile with tens of artillery rounds http://t.co/YZ4dpPYHT9pic.twitter.com/SgFWGyMKB5

— euronews (@euronews) August 20, 2015
Seoul says the announcements will continue until Pyongyang accepts responsibility for recent landmine explosions along the DMZ, which wounded two of its soldiers. North Korea denies responsibility.