Poland: Has Nazi gold 'treasure train' mystery finally been solved?
Comments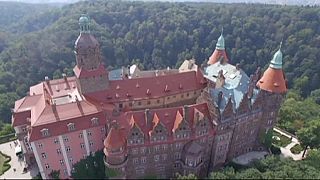 A castle, a tunnel and a lost train full of Nazi treasure.
We suspect these people have knowledge of what's inside
It is not a Hollywood film script but a real life mystery dating back decades.
Two people think they may now have found a Nazi German train rumoured to have disappeared in Poland near the end of World War Two – carrying away guns and looted gems as the Soviet Red Army neared.
"They are not treasure hunters or attention seekers," said Jaroslaw Chmielewski, the lawyer for the pair, reportedly a Pole and a German, who have chosen to remain anonymous.
Local folklore has it that the train entered a tunnel in southwestern Poland near the city of Walbrzych and its local castle – never to be seen again.
Rumors fly of Nazi "gold train" discovery in Poland http://t.co/48Qu6WgH7Wpic.twitter.com/bxuqWZlEqO

— Yahoo News (@YahooNews) 20 Août 2015
Authorities say the pair who think they may have located it want 10 percent of the value of the train's contents as a 'finder's fee'.
"We suspect these people have knowledge of what's inside,' said Walbrzych City Council official Marika Tokarska.
Trains were indeed used to take Nazi loot back to Berlin as
the war drew to a close.
But some sceptics claim there is no evidence that this particular train and its extravagant cargo ever really existed.