Ceasefire begins for three towns in Syria
Comments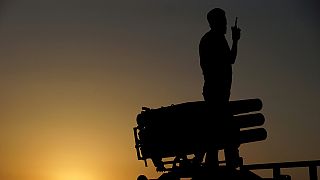 In Syria a 48-hour ceasefire has been agreed between the army, Syrian insurgents and the Lebanese Hezbollah group in three towns.
It was due to come into force at 0600 local time on Wednesday (August 12).
The ceasefire will apply in the rebel-held town of Zabadani, as well as two Shi'ite towns in Idlib province.
A source close to the negotiations said talks would continue on other subjects.
The lull in fighting will allow people, including combatants, to leave the areas concerned, and also allow access for food and medical aid.
Amateur video from social media purported to show recent heavy fighting going on in Idlib.
Meanwhile on the wider diplomatic front the US is hopeful that Iran can help to bring an end to the Syrian crisis.
America has accused Iran of backing proxies not just in Syria, but also in Iraq, Lebanon and Yemen.
Speaking in New York on Tuesday Secretary of State John Kerry said Iran has indicated that if the US Congress ratifies the recent nuclear deal, then Tehran would be open to talking about wider disputes within the region.
The Iranian foreign minister, Mohammad Javad Zarif, visited Lebanon on Tuesday for discussions that, according to a spokesman, included a new plan to resolve the crisis in Syria.
Zarif was due to travel to Damascus on Wednesday.