ISIL militants lay explosives in Syria's ancient city of Palmyra
Comments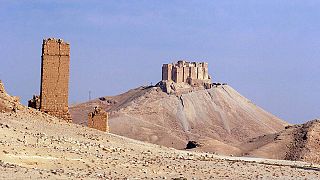 Fears are growing for the UNESCO world heritage site at Palmyra after activists claim Islamist extremists have mined the area.
The Syrian city is home to some of the Middle East's most important Roman-era ruins.
The monitoring group, the Syrian Observatory for Human Rights, which relies on a network of sources on the ground says the explosives were laid on Saturday.
ISIL jihadis overran the city a month ago.
It's not known if the purpose of the explosives is to blow up the site or to prevent its recapture.
Before Syria's war began, more than 150,000 tourists visited Palmyra each year, admiring its beautiful statues, more then 1,000 columns and necropolis of over 500 tombs.
Elsewhere in Syria and rebels say they have begun a campaign to take full control of the city of Aleppo.
Just four months ago it was Syria's army and its allied militia that were launching a major bid to besiege the city.
If it falls it will be a major blow for President Bashar al Assad, whose forces have lost swathes of territory in recent months.