UN unanimously adopts resolution on Syria chemical weapons
Comments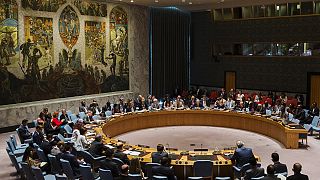 The UN security council has adopted a resolution which aims to identify the perpetrators of chemical weapons attacks in Syria which have killed and injured increasing numbers of civilians.
The US Ambassador to the UN, Samantha Power said the vote showed the perpetrators would not go unpunished.
"This sends a clear and powerful message to all those involved in chemical weapons attacks in Syria. The joint investigative mechanism will identify you if you gas people."
Syria's Ambassador to the UN Bashar Ja'afari stated that their government was not behind such attacks.
"The Syrian government and army have never used chemical weapons and they will never use chemical weapons. Syrian civilians were targeted with the use of toxic chemicals and chemical weapons, including chlorine gas, by armed terrorist groups."
The resolution establishes an international investigative body that would identify anyone responsible for chemical attacks and bring them to justice.
A chemical attack in the suburbs of Damascus in 2013 led the UN to call for the destruction of all chemical weapons but reports continue to surface of their use in the nearly five-year old conflict.