Turkey reinforces Syria border with more troops
Comments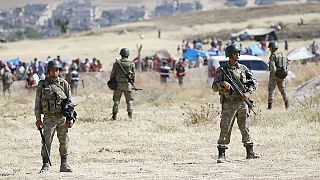 Turkey has moved more troops to its border with Syria as fighting intensifies but security sources say there are no incursion plans.
It's understood Ankara is acting to create a so-called "buffer zone amid concerns over Syrian Kurd advances and the presence of Islamic State militants.
The additional military forces are positioned between IS-controlled Jarablus and Tell Abyad, a town held by the Kurds.
Explaining the move, Turkey's Prime Minister Ahmet Davutoglu said it was designed to protect the country's border if Turkish security comes under threat.
Turkish officials say they are also growing increasingly concerned about the possibility of a wave of some one million more migrants heading for Turkey as a result of clashes in Syria.