The international Space Station crew is to take one giant leaf for mankind when it tucks into vegetables grown in space.
A batch grown last month on the vessel orbiting the earth is about to be harvested and eaten on August 10.
The station has been experimenting with growing vegetables in space since May 2014. One set was grown, harvested, frozen and returned to earth in October of that year.
A second set was planted last month and is about to be eaten. Half of the produce will be frozen on the station until it can be sent back to earth for analysis.
Astronauts are going to eat the first space lettuce! Better than MartianMovie</a>&#39;s potatoes... <a href="https://t.co/k5KpWJCRZ1">https://t.co/k5KpWJCRZ1</a> <a href="http://t.co/qqSw1NLe8x">pic.twitter.com/qqSw1NLe8x</a></p>&mdash; ISS Research (ISS_Research) August 8, 2015
The lettuces have been grown with a system called Veg-01. This uses red, blue and green LED lights to raise them in a small space.
"Blue and red wavelengths are the minimum needed to get good plant growth," said Dr. Ray Wheeler, lead for Advanced Life Support activities in the Exploration Research and Technology Programs Office at Kennedy on the NASA website.
"They are probably the most efficient in terms of electrical power conversion. The green LEDs help to enhance the human visual perception of the plants, but they don't put out as much light as the reds and blues."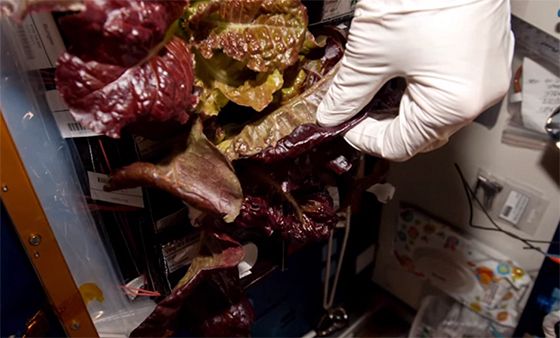 NASA is hoping its plant experiment will provide future pioneers with a sustainable food supplement.
Dr. Gioia Massa, the NASA payload scientist for Veggie at Kennedy, said: "The farther and longer humans go away from Earth, the greater the need to be able to grow plants for food, atmosphere recycling and psychological benefits. I think that plant systems will become important components of any long-duration exploration scenario."