Hundreds rally against security bills as Nagasaki marks bomb anniversary
Comments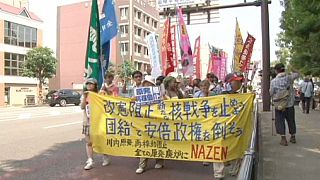 As Nagasaki marks the 70th anniversary of its atomic bombing, hundreds have attended a rally to protest planned security bills, which they say could jeopardise peace.
They claim Prime Minister Shinzo Abe's legislation, which is being considered by parliament, would mean Japan could go to war.
"If they overturn the ninth article of the constitution, then Japan will be able to wage aggression, war again, and kill innocent people. We should never let this happen," said one protester.
Professor Takao Takahara, from the International Peace Research Institute at Meiji Gakuin University, commented: "Everybody knows that Japan's choice of pacifism during the post-war era was right. With this mindset, I came to Nagasaki today to mark the atomic bombing."
Speaking at a memorial service, at this time of reflection, Nagasaki's mayor said that Japan must stick to its commitment of renouncing the right to engage in war.