Syria: hundreds missing after strategic town falls to militants
Comments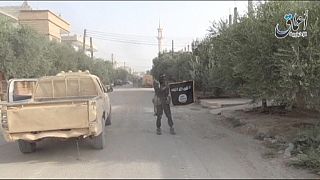 Militants from the self-titled group Islamic State have taken control of a strategic town in central Syria.
Al-Qaryatain lies south-east of Homs. It is a staging post on the main route from the IS-held city of Palmyra in the east to the Qalamoun mountain range bordering Lebanon in the west.
Observers say it could prove crucial for the group as it pursues its westward advance.
The town fell on the night of Wednesday into Thursday after intense fighting between IS forces and Syrian government troops.
IS kidnaps 230 civilians in central Syria http://t.co/y3odbz4fcu

— The Times of Israel (@TimesofIsrael) 7 Août 2015
Monitors claim hundreds of civilians have disappeared from al-Qaryatain in the two days since it was over-run.
The UK-based Syrian Observatory for Human Rights says at least 230 men, women and children, including dozens of Christians, have vanished from the town.
There has been no news of their fate.