Russia destroys tonnes of illegal food imports at its border
Comments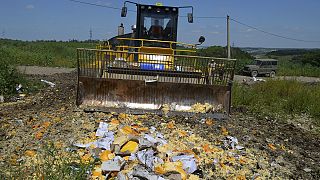 Tonnes of illegally-imported fresh produce from the West are being incinerated on the Russian border.
Moscow banned many Western food imports last year in retaliation for sanctions imposed by the United States, EU and their allies during the confrontation over Ukraine.
Russia destroys piles of banned Western food http://t.co/sQVQb26CHVpic.twitter.com/dUjOlBdv98

— The New York Times (@nytimes) 7 Août 2015
The order to destroy the illegal imports was made in July.
Executive order on the procedure for destroying agricultural imports currently prohibited in Russia http://t.co/xRe0myz8e4

— Government of Russia (@GovernmentRF) 31 Juillet 2015
Anti-poverty campaigners say the clampdown is a waste.
More than 285,000 people have signed an online petition urging President Putin to give the food away instead. Officials say they have taken note.
Russian authorities to take account of petition against destruction of sanctioned food http://t.co/Z8uItJuBKs

—

ITAR

-

TASS

(@ITARTASSnews_en) 6 Août 2015
There is a mixed reaction on the streets. "I am against destroying imports," said one woman when asked, "because Russian producers still can't produce high-quality food."
But others say people should be more patriotic. "I think all food should be homegrown", said another woman, "there is lots of food produced in Russia, we have lots of produce here."
There are those who say that Vladimir Putin is out of touch with everyday life for Russian citizens.
Sanctions have increased the price of food by 20%, resulting in real hardship for some.
However, the authorities are determined to press on with destroying illegal imports they consider "a security threat".
This week marks the one-year anniversary of Russia's embargo on goods from the EU, in retaliation to sanctions imposed on Moscow over the crisis in Ukraine.Watch our video to learn more about the embargo…

Posted by euronews on Friday, 7 August 2015