Afghanistan: Truck bomb kills eight and injures hundreds
Comments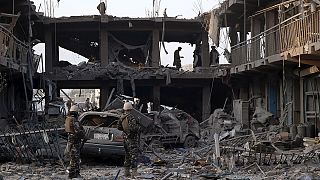 A powerful truck bomb killed at least eight people and wounded hundreds in the Afghan capital, Kabul, on Friday.
There was no immediate claim of responsibility but the early morning blast, which shook a heavily-populated area and ripped through homes and shops, looks to be part of a wave of attacks since a new Taliban leader was announced.
"The ground was shaking when the explosion took place," said shopkeeper Aziz Khan.
"I thought it was an earthquake. It was horrible."
"Everyone living in the area was shocked," resident Khan Zamin Zazai added.
"We are concerned about the security situation which is getting worse every day."
Conflicting reports put an intelligence compound or a market as the target of the blast, which left a hole in the ground more than 10 metres deep. Most of those injured were civilians.
Police expect the number of dead to rise, as buildings have collapsed and bodies are feared to be buried in the rubble.
The Afghan war between the foreign-backed government and the Taliban has intensified since the NATO combat mission ended last year and most foreign troops were withdrawn.