Liberia launches child registration drive post Ebola crisis
Comments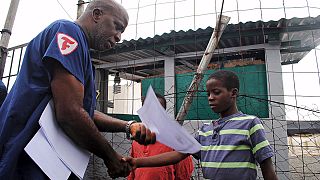 The Liberian government is on a drive to register more than 70,000 children born at the height of the Ebola epidemic.
70,000 Liberian births unrecorded in Ebola crisis — UNICEF http://t.co/KZxH3y9lCvpic.twitter.com/g2cDKQGbRw

— totallymanila (@totallymanila) July 31, 2015
Those not registered are vulnerable to marginalisation and exclusion.
Nearly 230 mn children don't have their births registered - a problem facing children #Liberia esp since #Ebola. http://t.co/RE99k8sRMv

— UNICEF Liberia (@UNICEF_Liberia) August 3, 2015
Many medical centres closed or offered reduced services in response to the Ebola threat and registrations fell as a result.
Veronica Dixon is a soon to be mother in Bong county: "It is important because when you have a child you need lots of things for them. Maybe you will request something and they will ask you 'when was the child born?' If you don't know you could have a hard time. Some say you won't get hospital treatment for your child if it is not registered."
Those that fail to register officially do not exist and will be unable to access basic healthcare and social services as well as identity papers.
There are also fears that those without a birth certificate are in danger from traffickers or illegal adoption.
Forced Labor, Sex Trafficking Overwhelms Liberian Government Says U.S. State Department:… http://t.co/50kVL7TlIqpic.twitter.com/qiAEmLo1PH

— Live news (@newspapershunt) July 29, 2015