German state and judiciary square up over treason probe
Comments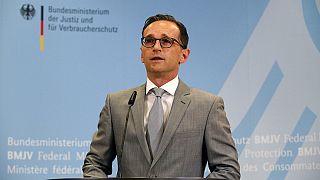 Germany is in the middle of a full-blown spat between the government and judiciary.
Heiko Maas, the country's justice minister, has effectively sacked the chief prosecutor Harald Range.
Werden Druck in Menschenrechtsfragen aufrecht erhalten. Für Fortschritte brauchen wir Dialog mit #China (1) pic.twitter.com/ULkIwr42iF

— Heiko Maas (@HeikoMaas) July 9, 2015
Earlier Range accused Berlin of interfering in an investigation into alleged treason and state surveillance.
Der zurückhaltende Chefermittler Harald Range muss gehen (stern.de) http://t.co/3X3HwCxtF7pic.twitter.com/uPuPLBLoOS

— 1001portails Deutsch (@1001ptsDE) August 4, 2015
Prosecutors are probing the website Netzpolitik.org. To determine whether the news outlet revealed state secrets in articles on alleged plans to increase government scrutiny of citizens.
The chief prosecutor pulled no punches in condemning the government: "To influence investigations because their possible result is an intolerable interference with the freedom of justice."
Range said Berlin had asked him to drop an independent investigator who claimed the journalists and the website were in the clear.
Goodbye Herr #Range#Ausrangiert#Landesverrat#Netzpolitik#Pressefreiheit#Piraten /as pic.twitter.com/O2USU2Ce9b

— Piratenpartei (@Piratenpartei) August 4, 2015
The investigation is currently on hold.
Markus Beckedahl is the founder and journalist of netzpolitik.org:"We are irritated that the investigations against us in regards to treason take a new turn every day. Only yesterday the federal chancellor said she did not think the investigation was correct, there was no point, especially the accusation of treason."

Danke an @wetterfrosch für dieses #Landesverrat Banner. pic.twitter.com/4DfWG9ejUI

— netzpolitik (@netzpolitik) August 4, 2015
The case has created uproar with Germans taking to the streets to defend press freedom.
Prosecutor Range was due to retire next year to be replaced by Munich's public prosecutor Peter Frank