Chinese artist and activist denied six-month visa to Britain
Comments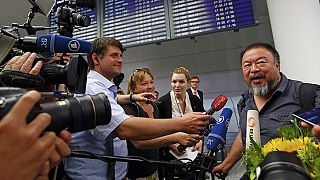 Dissident Chinese artist and free speech activist Ai Weiwei has arrived in the German city of Munich.
Ai told reporters that his application for a six-month visa in Britain had been denied in favour of a shorter period because he had not declared a "criminal conviction", despite not being charged with any crime.
In a statement provided by the British Embassy in Beijing, a spokesperson denied that the decision to reject Ai's application for a six month visa was driven by fears he could be in Britain at the same time as the Chinese President, Xi Jinping.
Ai told waiting reporters in the Bavarian capital that he was pleased he could travel again after his passport had been confiscated by authorities in China four years ago.