And also... Porn on parliament computers; crowdfunding for historic space suit; and drunk badger sleeps it off on beach
Comments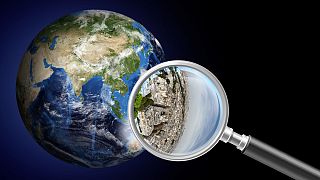 Every Friday journalists from euronews' various language teams bring you a selection of stories from Europe and beyond which haven't made the international headlines.
UK: thousands of attempts to access porn on parliament computers
It's been revealed that almost 250,000 attempts to visit porn websites were made on parliamentary computers in the UK last year.
Around 42,000 visits were made to pages categorised as a pornographic in April – that's the equivalent of more than 1,300 a day.
The figures were released under Freedom of Information legislation.
Kickstarter campaign saves Armstrong's space suit
The Smithsonian's debut on the Kickstarter crowdfunding platform has come to the rescue of Neil Armstrong's space suit.
The US museum complex launched a campaign to raise half a million dollars to preserve the gear worn by the astronaut, as he stepped off the Apollo 11 spacecraft in 1969. He went down in history as the first man to ever walk on the moon.
That Kickstarter project, dubbed "Reboot the Suit," hit its fundraising goal in five days.
The suit will now be prepared for the 50th anniversary of the moon landing, in 2019.
Cuban hockey players defect to the US
Half of the Cuban men's field hockey team at the Pan American Games in Toronto have defected to the US, it's been reported.
They are not the first to up and leave. Sports such as baseball, boxing and volleyball – where Cuban stars can command big salaries internationally – are particularly hard hit.
Woman gets free train travel after giving birth on Moscow subway
A woman who went into labour while travelling on Moscow's subway has been given free rail travel for a year, reported newspaper Molzaninovskie Vesti
She gave birth before an emergency crew arrived, with the baby delivered in a staff room.
France: cockfighting restrictions backed
A law banning the construction of new cockfighting arenas in France has been backed by the Conseil Constitutionnel, the country's highest legal authority.
Cockfighting is only allowed in one region of mainland France. Most other European countries have imposed an outright ban.
Drunk badger passes out on Polish beach
A drunk badger has been found sprawled out on a beach in Poland.
Seven empty beer bottles were apparently found next to Wandzia.
She's been recovering at an animal shelter after the drinking session.
Article sources: