Russia begins pre-trial hearings for Ukraine ex-pilot Nadiya Savchenko
Comments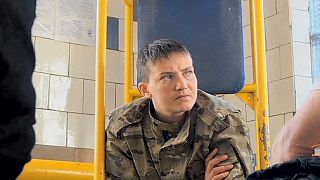 A court in southern Russia has begun pre-trial hearings in the case of a Ukrainian former military pilot charged over the deaths of two Russian journalists in eastern Ukraine.
Nadiya Savchenko is accused of providing the coordinates for a mortar attack that killed the pair last year.
She was brought to the courthouse in Donetsk, Russia in a police truck but journalists were prevented from seeing her enter the building and the proceedings were closed to the press.
Savchenko's lawyers claim she was already captive when the reporters died in shelling near Luhansk.
Since her arrest Savchenko has been elected to Ukraine's parliament and is a delegate to the Council of Europe, giving her diplomatic immunity.
But Moscow has refused to free her. In March a court rejected an appeal for her temporary release.