South Korea declares end to MERS, World Health Organization exercises caution
Comments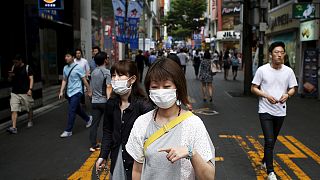 South Korea has declared a "de facto end" to the outbreak of Middle East Respiratory Syndrome, known as MERS.
The coronavirus has so far killed 36 people out of 186 confirmed cases in the country. South Korea's last confirmed infection was on July 4.
#INFOGRAPHIC: South Korea declares end to MERS outbreak http://t.co/daOCRoPblppic.twitter.com/qnP49T6Rk3

— Agence France-Presse (@AFP) July 28, 2015
It is the only outbreak outside the Middle East and has had disastrous consequences for the economy. The tourist industry saw a 40 percent drop in foreign visitors.
Screening at airports will continue for the time being, according to a health official.
Addressing the press, Prime Minister Hwang Kyo-ahn apologised for the government's response to the crisis. Many criticised its perceived slow reaction and the lack of adequate preparation.
However, he sought to reassure the public:
"There have been no additional MERS cases for the past 23 days and the last suspected patient was released from quarantine yesterday. It is the assessment of the government and the medical community that the public can be free from worry."
South Korea MERS outbreak is over, government says http://t.co/91bpnHY2z9pic.twitter.com/rrSgW24xlM

— Wall Street Journal (@WSJ) July 28, 2015
The World Health Organization (WHO) has not yet declared an end to MERS in South Korea. It states the all-clear can only be given after 28 days without a new infection.
Suspected cases in Manchester
At around the same time South Korea made its announcement, Manchester Accident and Emergency (A&E) unit temporarily shut (Monday evening, July 27). The department in the north of England tested two people for the infection. One was transferred to a nearby hospital and the A&E reopened shortly afterwards.