Sewel: UK Peer resigns from House of Lords over drugs allegations
Comments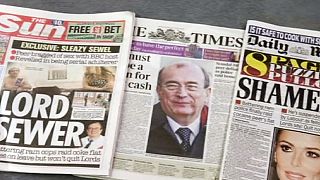 The fall-out continues from the latest high-level sex scandal in the UK.
Lord Sewel has resigned from the House of Lords after being filmed allegedly taking cocaine with prostitutes.
A newspaper ran the footage appearing to feature the peer snorting powder from a woman's breasts.
"I am slightly frustrated that it has taken so long for him to acknowledge that damage and, frankly, to do what was inevitable from the beginning." said Baroness Helene Hayman, a Labour peer.
Calls for House of Lords reform?
Lord Sewel was Chairman of the House of Lords ethics committee.
The fuss has ignited calls from some for the institution to be reformed.
CAM: There'll be no overhaul of the House of Lords http://t.co/G95OAqRkq1pic.twitter.com/J1IwidPTUK

— #SunNation (@SunNation) July 28, 2015
Criminal investigation
A criminal investigation is underway into what police say are "allegations of drug-related offences involving a member of the House of Lords."
#Breaking Metropolitan Police launch investigation into allegations of drug use by Lord Sewel and execute warrant on London address.

— Press Association (@PA) July 27, 2015
An address in Central London believed to be connected to the peer has been searched.