Roads blocked and manure dumped in further French farmer protests
Comments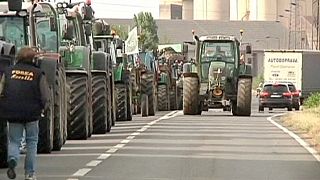 French farmers have dumped manure and blocked roads near the German border in a growing row over low prices for their produce and cheap imports.
A main highway was blocked for hours between Metz and Thionville.
This is the latest in a series of similar demonstrations by farmers around the country.
George Turk, a farmer and member of the French farmers' union FDSEA, said: "Nothing works anymore in farming, in terms of prices, regulations, the World trade Organisation; they really take us for idiots."
The latest protest came just hours before French ministers met bankers in Paris to discuss how to quickly get aid to famers.
The government announced 600-million-euros worth of tax breaks and loan guarantees last week, but many farmers say deep agricultural reforms are needed.