Who pays the most for their meat in Europe?
Comments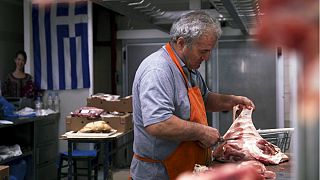 Farmers have put the spotlight on meat prices in France over the past week by blockading roads and supermarkets and stopping imports at the country's borders.
According to the government's own figures 10 percent of French farmers are on the brink of bankruptcy.
The agricultural sector in France, and in other European countries, is suffering from a downturn in exports to China and the ongoing Russian ban on EU food products. In addition, farmers complain that supermarkets and food processing businesses are boosting their profits by forcing down the price they pay for meat while raising prices for consumers.
But what is the situation at the tills around the EU? Euronews checked out the cost of 500g of fresh minced beef in various EU countries. The meat prices we selected were the cheapest, from from large supermarket chains' website or online catalogue.
Then, to account for differences in the purchasing power of shoppers in each country, euronews looked at how many hours of work, paid the local minimum wage, is needed to purchase the beef.
The figures show that, if France has indeed one of the most expensive price for the mince, the country's high minimum wage make the products relatively more affordable.
Greece is the worst off, with both the most expensive meat, and lower minimum wage making it the least affordable of the countries we looked at. On the other side, the United kingdom, Poland and Germany benefit from relatively cheap meat.