Wildfires take hold in Spain and France
Comments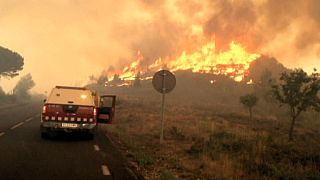 Fire fighters in Spain and France have worked in extreme conditions and through the night and weekend to bring huge wildfires under control.
In Odena in north-eastern Spain, the wildfire has laid waste to a thousand hectares of land. It is not yet under control, but is no longer spreading apace.
Els Bombers passaran la nit fent contrafocs per intentar encerclar l'incendi d'Òdena http://t.co/sn6KYLoXtJpic.twitter.com/E18ixZ58yU

— 324.cat (@324cat) 26 Juillet 2015
500 people have been evacuated from their homes and are being housed in emergency shelters.
Record summer forest fire in France
In France, the largest summer forest fire to date has taken hold near Bordeaux.
Almost 700 firefighters and military personnel have been tackling the blaze which has laid waste to 600 acres of pine forest.
Incendie à Saint-Jean-d'Illac et Pessac : une vidéo du feu vu du ciel http://t.co/slUbDlcdmQ#Girondepic.twitter.com/80lLAS0iIX

— France Bleu Gironde (@Bleu_Gironde) 26 Juillet 2015
The wind is now said to have dropped and there was been light rain overnight, leading emergency crews to be more optimistic.
No one has been injured and no property damaged. 500 people have been evacuated from their homes.
Experts have yet to pinpoint the cause of the fire.