The Balkans: Another route for migrants seeking a new life in Europe
Comments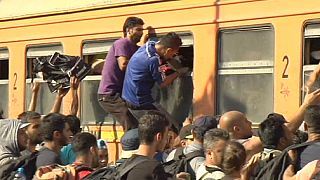 With record numbers of migrants drowning in the Mediterranean, many others seeking a better life in Western Europe are opting to travel overland via the Balkans.
That explains Monday's chaotic scenes in the Former Yugoslav Republic of Macedonia at Gevgelija, near the border with Greece.
Desperate migrants scrambled to board trains, squeezing into every space available.
Many migrants fleeing war, poverty and repression in the Middle East and Africa seek to use FYROM as a transit country, hoping their trip
will take them to Serbia and then onto other European countries.
It has made patrolling borders in the Balkans particularly difficult.