Small plane crash in Tokyo suburb leaves three dead
Comments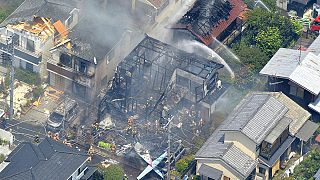 Three people have been killed when a light plane crashed into a residential area of Tokyo.
Firefighters battled burning houses after the five-seater aircraft came down in the Chofu district of the Japanese capital.
Local media reported that two men inside the plane were killed, and a woman who was inside one of the houses was also killed, and five people were injured.
At least five houses and two cars caught fire after the crash, according to the Fire Department.
The cause of the crash was not immediately known. The airport which light aircraft use is located 500m from the neighbourhood where the plane came down.
Three killed as small airplane crashes into Tokyo suburb: NHK – Reuters http://t.co/gzwGtbAQQY#newspic.twitter.com/jlq9JthUMV

— #SocialMedia NC (@greensboro_nc) July 26, 2015