Mercedes go hungry as Vettel wins at the Hungaroring
Comments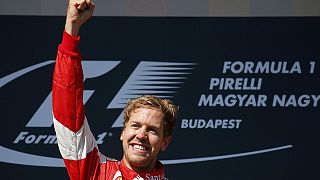 Euronews sports journalist Andy Robini takes us through the gears of this weekend's F1 action with a regular look back in the rear view mirror.
Welcome to Speed:"Lewis Hamilton outclassed Mercedes teammate Nico Rosberg by more than half a second to take pole position at the Hungarian Grand Prix. The British world champion, bidding for his sixth win this season, dominated throughout qualifying, but was he able to press home the advantage on race day? Well there was no majestic Mercedes procession as Ferrari's Sebastian Vettel claimed a surprise victory in a dramatic and unpredictable race.
Vettel laid the foundation for his victory on lap one when the German attacked the Mercedes' of Lewis Hamilton and Nico Rosberg to take the lead on the first corner.
Hamilton then made a huge error running wide at the chicane midway round the track to drop six places.
Then, with the Ferrari's of Vettel and Kimi Raikkonen out front, the world champion went to work to regain ground.
Raikkonen suffered an engine failure and it was left to the Red Bulls of Russia's Daniil Kvyat and Australia's
Daniel Ricciardo to claim second and third places.
Lewis Hamilton finished 6th, Nico Rosberg 8th.
Vettel dedicates win to Bianchi http://t.co/TnIrSqiNgK#motorsport#f1#news

— Sebastian Vettel (@f1_vettel) July 26, 2015
It's P6 for @LewisHamilton in a crazy #HungarianGP. Front to back and round again. #F1pic.twitter.com/divmcJrPYY

— MERCEDES AMG F1 (@MercedesAMGF1) July 26, 2015
The 2009 Hungarian Grand Prix was marred by Felipe Massa's life threatening accident during qualifying. The Brazilian driver was airlifted to a Budapest hospital with a skull fracture in what could have been a tragic day for formula one.
The freak accident that almost ended Felipe Massa's life, never mind his career, happened in qualifying when the Brazilian was hit above the left eye by a spring which had fallen from rear suspension of Rubens Barrichello's Brawn. Massa was travelling at high speed and was knocked unconscious. His car ran straight across a run-off area and embedded itself in a quadruple-layer tyre barrier.
He was stabilised before being flown to hospital where he successfully underwent emergency surgery.
The spring had somehow pierced the top of his visor and injured Massa above the left eye,
Thankfully Felipe recovered.
The notoriously difficult Hungaroring circuit has staged some spectacular races. Let's go back in time to 1986
as Brazilian rivals Ayrton Senna and Nelson Piquet went head to head, giving the record crowd of 200,000 a race to remember.
The 1986 Hungarian Grand Prix was the first Formula One race held at the newly constructed Hungaroring.
And the first Grand Prix to be raced behind the Iron Curtain.
As the Cold War thawed petrol heads had rarely witnessed a such a hot confrontation between arch-rivals and fellow Brazilians, Nelson Piquet and Ayrton Senna.
The Grand Prix is notable for the 'best overtake ever' as Nelson Piquet in the Williams passed Senna in the Lotus, the compatriots then battled to the chequered flag with Piquet crossing first.
Alain Prost was eventually crowned champion after a classic season.
Well that's all we have time for but join us next week for another edition of speed where we'll be looking at the Rally Finland. In the meantime we end the program with some of the best moments from this weekend's motorcross world championship event in the Czech Republic. See you soon."

VIDEO: Watch the MXGP Qualifying highlights for the Czech Republic GP... http://t.co/VOB1cEbnVLpic.twitter.com/KtBJzW5JSV

— Dirt Bike Rider Mag (@dbrmagazine) July 26, 2015