Sandra Bland death ruled 'suicide by hanging'
Comments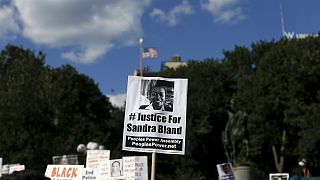 An autopsy on a woman who was found dead in her Texas jail cell has found that her injuries were consistent with suicide.
The preliminary results support the medical examiner's initial ruling of suicide in the case of Sandra Bland who died three days after being arrested in a traffic stop.
Waller County prosecutor said the post-mortem showed she had no defensive injuries on her hands which would indicate a struggle.
However, he detailed other injuries that were believed to be self-inflicted.
"There were approximately 30 cut marks on her left wrist that were also in a state of healing. These roughly 30 cut marks were both in a state of scarring and scabbing indicating that they were placed on her body roughly two weeks before her incarceration," Waller County Assistant District Attorney Warren Diepraam said.
Bland was pulled over on July 10 for failing to signal a lane change, but the encounter quickly escalated, and she was taken into custody and charged with assaulting an officer. She was found hanging in her cell with plastic bin bag around her neck on July 13. A dashcam video has raised questions over the state trooper Brian Encinia's reasons for her arrest.
Her family have disputed the suicide ruling and say there are discrepancies that need to be clarified.
"We made it very clear that we wanted a full, thorough investigation;" explained Bland's sister Sharon Cooper. "The investigation that you would do with somebody detained in custody. We wanted that, regardless of what the outcome was."
Jail documents appear to show conflicting reports about suicidal thoughts, and Bland was not judged a suicide risk based on guard's observations.
The jail itself has come under fire for not correctly following protocol concerning inmates by failing to carry out timely checks. On the day of Bland's death a guard spoke to her around 7am, but no one came back to check until 8.55am. The policies state that visual contact must be made every 60 minutes.
A local TV station KZTRK reported that Bland made a phonecall to her friend LaVaughan Mosley and talked about having her bail set at 5,000 dollars.
"I'm still just at a loss for words, honestly, about this whole process, how this switching lanes with no signal turned into all of this I don't even know," Bland said in the message, according to the Houston station. "Umm, But I am still here, so just call me back when you can.
Bland's arrest for a traffic stop and subsequent death have created nationwide anger. Activists say the case is the latest example of racial bias and use of excessive force by US police.
Her body was returned to Chicago on Wednesday in preparation for a funeral scheduled for Saturday.