Berlusconi linked with a shock return to government – in Russia!
Comments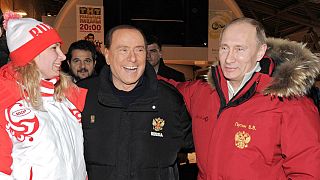 Italy's controversial former prime minister Silvio Berlusconi has been offered a return to power in Russia, according to Italian media.
Vladimir Putin has told Berlusconi he can have Russian citizenship and a position in government heading up its economy ministry, reports La Stampa.
The Italian newspaper quoted Berlusconi saying: "My future? Becoming minister for my friend Putin."
He added: "Think about it: in Italy I am marginalised while Putin tells me he is ready to give me (Russian) citizenship and get me the lead of the Russian economy ministry."
Regardless of the chances of seeing Berlusconi in power in Russia, the two have been good friends since they shared a table during G8 meetings.
Massimo Gramellini, writing in La Stampa, is one commentator who has cast doubt over how serious Berlusconi's comments were, describing the story as "five minutes of stupidity" in the "heart of a torrid summer".
And they stayed in touch, last month sharing a relaxing weekend in Siberia. Putin meanwhile is a regular visitor to Berlusconi's villa in Sardinia.
It comes after French actor Gérard Depardieu was handed a Russian passport in January 2013. Reports emerged yesterday saying the extrovert actor had been banned from Ukraine because he was considered a threat to national security.