EU ministers postpone decision on migrant allocation
Comments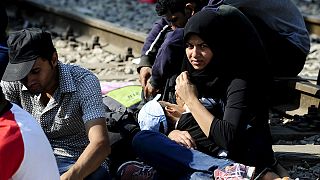 EU interior ministers have failed to agree on how to redistribute 40,000 migrants who have arrived in Italy and Greece.
Instead they've decided to start the relocation of just over 32,000 in October.
The remainder will be allocated in December.
"It is clear: member states must deliver on the promises made at the European Council last month…..I want to be frank with you: I am disappointed that this did not happen today but it was a very important step forward, " said EU Commissioner for migration , Dimitris Avramopoulos.
The 40,000 figure was proposed by the European Commission following the deaths of nearly 800 people in the Mediterranean in April.
While some states have agreed to take some migrants others have refused.
Germany has offered the most places – 10,500 for asylum seekers and 1,600 for migrants, followed by France with 6,752 places for asylum seekers and 2,375 for migrants.
Although the UK, Denmark and Ireland are allowed to opt out of the programme under EU treaties, Ireland has agreed to take 600 asylum seekers and 520 refugees while Denmark and Britain have agreed to accept 1,000 and 2,200 refugees respectively.
About 150,000 migrants fleeing war and poverty are estimated to have reached Europe so far this year according to the UN's refugee agency the UNHCR
The majority have arrived in Greece and Italy where they are being looked after in overflowing camps.
On Monday 600 more migrants were picked up by the Italian navy and brought to Sicily.
A deal is critical as the EU also needs to turn its attention to the growing numbers of migrants crossing the Balkan peninsula to reach Central Europe.