Nuclear deal with Iran thought to be imminent
Comments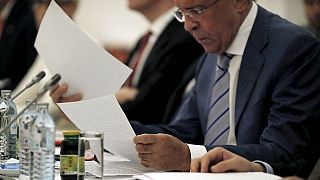 A tired Russian Foreign Miinister , Sergey Lavrov momentarily left the nuclear negotiating table in Vienna to get some sleep . All the representative of the six world powers and Iran are said to be exhausted as they make the final push for a deal.
Indications are that an announcement is imminent – a draft deal with Iran which will exchange sanctions relief for curbs in Tehran's nuclear programme is being discussed.
Anonymous sourses claim it includes UN inspecters having access to all suspect Iranian sites , including military ones.
One of the sticking points in the past week has been Ian's insistence that a United Nations Security Council arms embargo and ban on its ballistic missile programme dating from 2006 be lifted immediately if an agreement is reached. Russia, which sells weapons to Iran, has publicly supported Tehran on the issue.
The West however is loathe to allow Iran to buy and sell arms freely, fearing it this would permit it to increase its military support to Shi'ite militias in Iraq, Houthi militants in Yemen and embattles President Bashar al-Assad in Syria.
An agreement if it can be reached could mark a watershed in Tehran's relations with Western nations which suspect it of trying to develop nuclear weapons, which Iran denies
Euronews reporter Reihaneh Mazaheri is covering the story:
"After 17 consecutive days of talks between Iran and six world powers, it's still unclear what the result will be: an agreement, a deadline extension, or failure. Although the negotiators say all the circumstances are in place to reach an agreement that is virtually done and dusted, it seems making the final political decision is not so easy. Analysts say the final bargaining about a new resolution from the UN Security Council is continuing. This resolution is supposed to replace all the previous ones at the United Nations."