Netanyahu tweets in Farsi to persuade Iranians nuclear deal is bad
Comments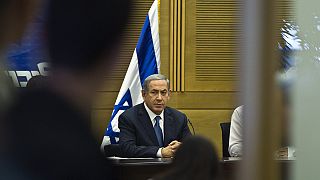 A staunch and consistent opponent of a nuclear accord with Iran, Israel's Prime Minister Benjamin Netanyahu has taken to tweeting in Farsi – to communicate, he said, with ordinary Iranians.
He repeated his argument that a deal would pave the way for Iran to get nuclear bombs and "billions of dollars for terrorism", and that the Tehran leadership should not be engaged diplomatically while it orchestrates anti-American "hate marches" on the streets.
با ادامه ی نمایش سازشپذیری با ایران راه رسیدن ایران به بمب اتمی هموار شده و میلیارد ها دلار برای تروریسم و تهاجم در اختیارایشان قرار می گیرد

— نخست وزیر اسرائيل (@israelipm_farsi) 13 Juillet 2015
According to the Jerusalem Post, Netanyahu's tweets brought a barrage of insults in Farsi in reply.
The prime minister accused some of wanting an agreement at any price, saying there was no way of avoiding "this bad deal".
"We vowed to prevent Iran from arming itself with a nuclear weapon – and indeed, without our efforts over the years, Iran would already have been capable of building an atomic bomb long ago," he said at a Likud party meeting.
"Our obligation is to prevent Iran from obtaining nuclear weapons, and it is relevant today more than ever."
Israel was not party to the negotiations and has tried in vain to get the terms toughened against Iran.
In September 2012 Netanyahu used a cartoon drawing of a bomb in his address at the UN to illustrate his view of Iran's nuclear ambitions.