Red Bull Air Race: Arch wins in Budapest
Comments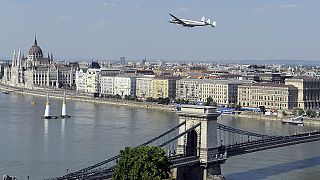 After Abu Dhabi, Chiba and Rovinj the fourth round of the Red Bull Air Race series took place in Hungary's spectacular capital city of Budapest.
Austrian pilot Hannes Arch produced a disciplined performance over the Danube river to win his second consecutive leg.
Former world champion and current standings leader Paul Bonhomme of Great Britain took second while Czech pilot Martin Sonka finished third.
After his second straight victory Arch said: ''To win here is very special. I think Budapest is the most beautiful race, and the most typical air race, spectacular in the middle of town, so winning here is something very special.''
Despite the energy-sapping heatwave tens of thousands of people lined the banks of the Danube to see the return of the Red Bull Air Race in the city after a six-year absence.
The next race will be in Ascot England in August.