Pro-Uber protests in Sao Paolo after city ban
Comments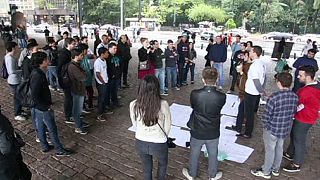 Uber users have protested in Brazil's largest city against a government ban on the ridesharing app.
Sao Paulo city council voted this week to prohibit the use of peer to peer applications in the metro of 12 million people.
The measure will see Uber drivers fined and possibly have their cars confiscated.
It still needs another vote and the approval of Mayor Fernando Haddad before taking effect.
Rony Rodriques, an Uber user, said: "I feel raped by the government because once I found an alternative and good service, without any plausible justification, they take away a service that meets my needs as consumer."