Saudi-led strikes target Houthi strongholds in Sana'a
Comments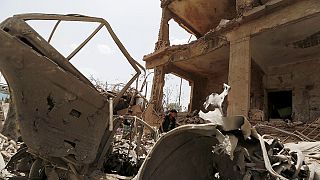 At least 16 people have died in Saudi-led airstrikes in and around the Yemeni capital, according to Houthi militiamen.
Local residents say the bombings targeted a military site under the control of the Shi'ite militant group in the north of Sana'a, as well as the homes of some of its leaders in the al Jaraf neighbourhood.
Both the European Union and United States have called for a pause in fighting in order to deliver aid to civilians in the city.
Local resident Akram al-Hamzi says the home of a Houthi leader was struck.
"We were surprised the home of Brigadier Ali al-Nashri was struck," he said. "One woman and three children were casualties of this attack."
An Arab coalition has been battering Yemen since late March, 2015, in a campaign to oust the dominant Houthi forces. It is hoped successful strikes will see the country's elected President Abd-Rabbu Mansour Hadi return from Riyadh, where he is currently in exile.
In early July, UNESCO announced it had added Sana'a's Old City to a list of world heritage sites considered to be in danger.