Riot breaks out at Hungarian migrant camp
Comments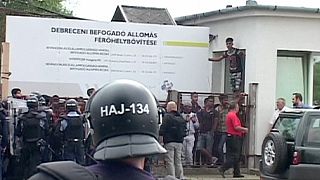 Hungarian police were called to break up fighting at a migrant camp in the eastern city of Debrecen on Monday.
Rubbish had been set on fire and rocks were thrown after a dispute between two migrants grew into a full blown riot.
Around 150 officers , some using teargas were needed to restore order.
Hungary is in the European Union's Schengen visa-free travel zone and as such an attractive destination for tens of thousands of migrants entering Europe through the Balkans from the Middle East and Africa.
In the first six months of this year, the number of migrants crossing into the EU via Hungary's border with Serbia exceeded 66,000.