Netanyahu denounces Gaza-bound aid flotilla as Israel intercepts lead ship
Comments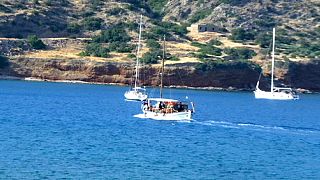 Israeli Naval forces have intercepted a ship leading a four-vessel protest flotilla taking aid for Gaza in defiance of the Israeli blockade of the Palestinian territory.
An Israeli military statement said the action came after all diplomatic channels were exhausted.
It said there was no violence when troops boarded and searched the Marianne of Gothenburg in international waters, before escorting it towards Israel's southern port of Ashdod.
A euronews source on board says three other vessels have turned back.
Israeli Prime Minister Benjamin Netanyahu congratulated the military, saying the ship was involved in a "demonstration of hypocrisy".
The fishing trawler left the Greek island of Crete on Friday with a few dozen Europeans including politicians among the activists on board.
The flotilla was carrying humanitarian aid including medicines and solar panels to Gaza.
It was the latest in a series of protest voyages across the Mediterranean.
One journey turned deadly in 2010 when nine Turkish activists were killed aboard a ship, the Mavi Marmara, which was commandeered by Israel. Several activists and Israeli soldiers were injured.
The raid damaged relations between Israel and Turkey. Israel later issued an apology and international prosecutors decided not to bring charges.