Gaza blockade opinions range from 'rightful defence' to 'war crime'
Comments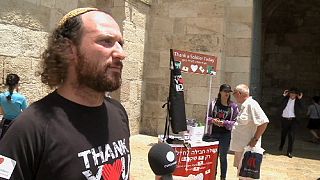 Israel refuses to relax the naval blockade on Gaza, even in a symbolic gesture. Our special envoy Luis Carballo asked both Israelis and Palestinians in the Old City of Jerusalem for their opinions about the latest flotilla: Should the Israeli government allow it access to Gaza? Spokesman Mark Regev was not available to talk to us on Sunday.
Carballo found the points of view clearly opposed: "The Palestinians evoke what they say is a lack of humanity on the part of [Prime Minister] Benjamin Netanyahu's government, for not allowing the flotilla to reach the Strip, while many Israelis told us that allowing this aid into Gaza would be the same as giving it directly to Hamas."
One Israeli said: "Our government permits anyone to send humanitarian aid to Gaza but just wants to check it. How do we know it is not weapons? The previous flotilla was supposedly bringing humanitarian aid and we found weapons and they were attacking our soldiers. We have to be careful and see what's going in."
Within the 16th century walls, the Old City has Armenian, Christian, Jewish, and Muslim Quarters. Modern Jerusalem lies outside the walls.
A Palestinian told us: "Israel has signed many agreements for more than 40 years back, before the government of Netanyahu, Olmert, before Begin and Rabin, and they don't care for anything."
In Nazareth, the West Bank, we met Hannen Zoabi, an Israeli Arab member in the Knesset. Parliamentarian Basel Ghattas, sailing with the flotilla, is also a member of coalition Zoabi is in. Last year, she was temporarily suspended from the Knesset when she said that the Palestinian kidnappers of three Israeli teens murdered last summer were not terrorists. She sailed in the 2010 flotilla and was present the night that nine Turkish activists were killed by Israeli commandos maintaining the blockade.
Carballo said: "Basel Ghattas' participation in the flotilla has created a very big polemic in the Knesset, the Israeli Parliament, with harsh criticism from the prime minister, especially towards you. Do you understand these polemics? Do you defend the right of Basel Ghattas to take part in this flotilla?"
Zoabi said: "Our participation in the Freedom Flotilla or any political participation to break the siege of Gaza is a humanitarian, moral and political gesture at the highest level. The problem is not Basel Ghattas or any Palestinian's struggle against the blockade; the problem is that Israel's policy does not allow any Palestinian or international sign of revolt to break the blockade."
Carballo: "The Israeli blockade in Gaza [has already lasted] eight years. Is it time to end this?"
Zoabi: "Of course, we are talking about violations of human rights, we are talking about war crimes, about crimes against humanity. Poverty in Gaza is now 40 percent, unemployment is 60 percent. Compared to before the blockade, the volume of goods now getting into Gaza is just 15 percent. They have almost two million Palestinians trapped in Gaza. They have taken their freedom and deprived them of their basic needs."