Israeli forces intercept aid for Gaza protest flotilla
Comments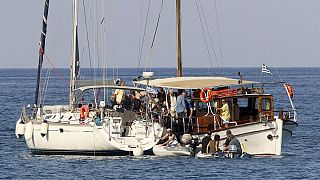 Israeli Naval forces are said to have intercepted a ship leading a four vessel protest flotilla taking aid for Gaza.
The is called the Marianne of Gothenburg.
An Israeli military statement said there was no violence in the incident in which troops boarded, searched and then forced the boat to sail to an Israeli port.
A euronews source on board says three other vessels have turned back.
The flotilla is carrying humanitarian aid including medicines and solar panels for the Palestinian territory.
It's the latest in a series of protest voyages across the Mediterranean against Israel's nine-year blockade of Islamist Hamas-dominated Gaza.
One of those incidents turned deadly in 2010 when 10 Turkish activists were killed aboard a ship commandeered by Israeli forces.