NATO 'won't be dragged into arms race' with Russia
Comments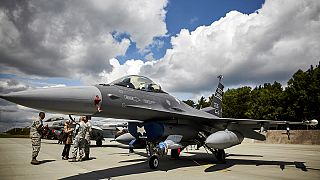 The head of NATO has said the organisation will not be forced into a new arms race with Russia.
But Jens Stoltenberg said what he called Moscow's aggression in Ukraine had obliged the alliance to strengthen its defences.
"We will not be dragged into an arms race but we must keep our countries safe," he said.
The US has moved to reassure NATO allies in eastern and central Europe, nervous about Russia's intentions.
Speaking in Estonia on Tuesday (June 23), the US Defence Secretary said military equipment would be re-positioned closer to Russia's border.
"We will temporarily stage one armoured brigade combat team's vehicles and associated equipment in countries in central and eastern Europe," Ash Carter said.
NATO has stepped up exercises in Europe following Russia's annexation of Crimea last year.
Moscow recently accused NATO of pushing Russia into an arms race.
President Putin said his country would add more than 40 intercontinental ballistic missiles to its nuclear arsenal this year.