NATO strives to keep pace with military challenges
Comments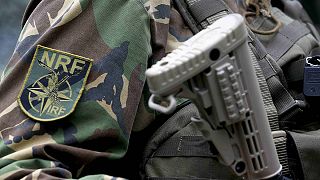 The new NATO Response Force's joint military exercises saw more than 2,000 soldiers and more than 200 tanks pour into Poland last week for four days of NRF real condition simulations.
The North Atlantic Treaty Organisation's Secretary General Jens Stoltenberg addressed the movement of troops and supplies:
"We need ready, prepared forces and we need also fast decision-making to be able to respond to threats, to challenges, with very little warning time."
The NATO Response Force has some 13,000 troops to act as a deterrent to escalation of potential threats. Full strength is 30- to 40,000.
A Spearhead Force of 5,000 is ready to move within two to three days. This includes short notice land, sea, air, and special forces packages.
The Very High Readiness Joint Task Force within the NRF is deployable in six regional command stations in NATO member states along the eastern flank of the alliance.
Stoltenberg and others have drawn attention to Moscow's major increase in military budgets in the past ten years, while the 28-member Atlantic Alliance has not kept pace.
He said: "Overall NATO defence investment is expected to fall by 1.5% in 2015, so we must do more to increase investment in our defence, as the challenges to our security have increased."
NATO's goal is that the allies dedicate 2% of their GDP towards defence within ten years.
Last year, only four of them — the US, the UK, Estonia and Greece — met that target. Poland is on a spending trajectory to join them this year.
The improvement of national infrastructure, such as airfields and ports is another very costly prospect.
A further area under scrutiny is swift political decision-making, to get NATO forces to the field. All the members must approve sending them. One voice of dissent can hold up military action. Germany, for example, is constitutionally bound to seek its parliament's go ahead before its troops may be deployed.