EU foreign ministers agree new operation against people smugglers
Comments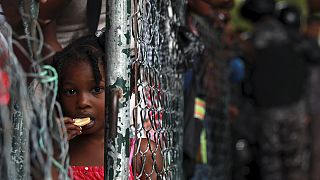 Ending the trade in migrants run by people smugglers. That's the aim of a fresh operation launched on Monday by the EU.
It's expected the first deployments of the mission, called EU Navfor Med, will start within a week. The initial phase will focus on surveillance of the criminal networks believed to be behind the people smuggling. The operation was backed unanimously at a meeting of EU foreign ministers in Luxembourg.
.
"Obviously this is only part of our strategy. We will talk about that later on during the day, but I am impressed by the unanimity and the speed at which we have managed to put this in place," Federica Mogherini, High Representative of the European Union for Foreign Affairs and Security Policy told reporters.
Later stages of the operation could involve direct action against the traffickers and their boats including what are known as "mother ships" which are used to tow offshore makeshift rafts packed with migrants.
But the absence of a Security Council resolution authorizing the use of force in Libyan territorial waters limits the power of the operation at this stage.