Greece: Solidarity protests in Paris/Berlin as Tsipras calls urgent cabinet talks
Comments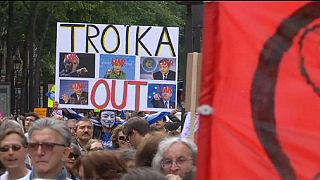 In several European capitals, thousands of protesters allied in solidarity with Greece on Saturday ahead of an emergency summit of eurozone leaders next week.
Demonstrators in Paris stood behind a banner which read "austerity kills, democracy is dying", while supporters in Berlin turned out on the streets, rallied by leftist organisations and the Green party.
Several rounds of talks over Greece's debt crisis broke down last week without agreement, so ministers of the 19-nation bloc will meet again in Brussels on Monday.
In a last-ditch bid to buy extra time, Greece announced it would present breakthrough proposals to its lenders to end a deadlock
Prime Minister Alexis Tsipras has called an urgent cabinet meeting on Sunday about whether to put election promises, like austerity reduction, to one side to avoid Greece defaulting on its debts.
But with tensions at fever pitch, finance minister Yanis Varoufakis put the ball in German Chancellor Angela Merkel's court, demanding that she make a "clear decision" on Greece's future.
A pressing question for Ireland before Monday's meeting on Greece – in THEIRISHTIMEShttp://t.co/rYRI44zsO8

— Yanis Varoufakis (@yanisvaroufakis) June 20, 2015
A new poll on Sunday indicates that 62 percent of Greeks think the country would be worse off if it returned to the drachma.
Despite Greeks pulling more than a billion euros out of banks on Friday alone, there have been no signs of panic of the streets.
Civil servant Stelios Kyriakopoulos hopes the banking system will not collapse: "I don't think there will be a problem with the banks but we are all really worried because we don't know what the next day will bring for us.
Other Athens resident Diamanto Skiada was hopeful of a solution: "I would like for us to come to an agreement but the Europeans must stop blackmailing us. We are a decent nation. We are going through a very tough time and I don't understand why they are doing this this."