Greece crisis: last-ditch talks on a deal
Comments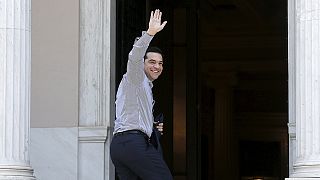 Greek Prime Minister Alexis Tsipras has a mountain to climb.
Fresh from signing a written agreement with Russia on a new a gas pipeline, Greece's Prime Minister now has to broker deal to break his country's debt deadlock ahead of an emergency eurozone summit on Monday – billed as the most important meeting in the currency's 19-year history.
Greece says PM and EU's Juncker likely to speak by phone http://t.co/yzRWV09Qblpic.twitter.com/QW8rPNanWG

— European CentralBank (@ECB_RR) June 20, 2015
Reports suggest Tsipras may speak to European Commission President Jean-Claude Juncker by telephone. German Chancellor Angela Merkel is on record as saying a deal must be agreed to allow decisive action to be taken at Monday's summit.
Greece and Russia have agreed to extend the planned Turkish Stream gas pipeline to Europe: through Greek territory. Athens says funding will come from Russia's state development bank.
The European Central Bank has extended emergency funding to Greece's banks.
An estimated four billion euros has been withdrawn in the last week.