Greek debt crisis: holidaymakers feel the effects
Comments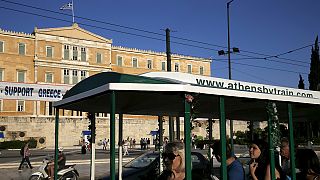 Tourists in Greece are feeling the effects of the country's ongoing debt crisis.
"It is a concern, but we want to sightsee"
Tourists come to look at monuments from Europe's ancient world have found themselves caught up in the continent's very modern-day crisis.
Withdrawals accelerated during the week as talks failed to end the debt deadlock.
An estimated four billion euros has been taken out since last Monday.
Philip Hunt is from the United States:"I came by cruise ship and I saw on the news that someone was wondering whether or not the banks would open on Monday. So it is a concern, but we want to sightsee while we are here so we just hope it (the economy) survives."
For the moment, life is continuing as normal in Greece. But everyone is aware of the threat of unprecedented economic and social chaos following the emergency EU summit this Monday.