Egyptians mark Ramadan with new enthusiasm
Comments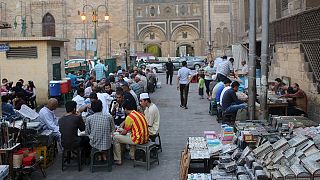 After the deadly violence of recent years, Ramadan in Egypt is taking place amid a new sense of optimism.
As well as fasting from sun up to sun down, the Holy month is a time for worship.
Many Muslims visit friends and family, give money and food to the poor and try to put an end to personal disputes.
Cairo resident Bahaa Alawadi told euronews: "We feel safer than in previous years. People here have started going out and getting on with their lives, normal living has is returning gradually."
Ayman Maayta, a Jordanian living in Egypt added:
"People wait impatiently for Ramadan. Despite the hot weather, people are happy to fast. Ramadan means a lot to us and it shows in our celebrations and the nature of our cuisine."
Before and after fasting, cafes are full of people enjoying hot drinks and traditional foods.
You'd be hard pressed to find a single house or street in Egypt that isn't adorned with Ramadan lanterns or Fanoos.
In Cairo, our correspondent Mohammed Shaikhibrahimin said: "Ramadan in Egypt has a particular flavour and tradition which the Egyptian have practiced for a long time. That's despite the difficult circumstances of recent years, which they hope have changed for the better."