The Muslim holy month of Ramadan begins
Comments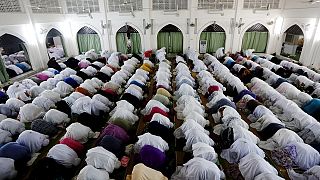 For most of the world's 1.6 billion Muslims, dawn on Thursday 18 marks the beginning of the holy month of Ramadan..
It is a time of prayer and fasting from sunrise to sundown But each evening delicacies and festive foods are eaten.
It means on the previous days the shops are full as preparations get underway for the dishes and the essential entertainments … Ramadan is when families like to break their fasts together in the evenings.
For countries torn by conflict or trying to recover from it, the supplies of sweets and cakes are not so abundant as elsewhere.
Around the world the sighting of the crescent moon at the beginning of a new lunar month marks the start of Ramadan but some countries use astronomical calculations which can lead to different start and end dates for the holy month.
Ramadan moon sighting announcement expected around 9pm today http://t.co/PvCabiAkjv

— Emirates 24|7 (@Emirates247) June 16, 2015