Denmark votes in a too close to call election
Comments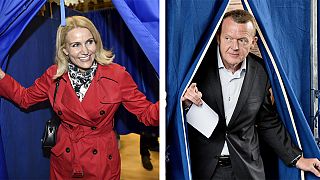 Danes are voting in an election that polls suggest is too close to call.
Less than one percent separates the ruling centre-left bloc, led by Helle Thorning-Schmidt, and the centre-right opposition with former prime minister Lars Lokke Rasmussen at the helm.
Reuters: Danes vote in close election as PM gambles on economic upturn http://t.co/JfPNA1PF0d

— NewsBlogged (@NewsBlogged) June 18, 2015
The momentum appears to be with the incumbent after she staged a remarkable comeback in the polls, which went hand in hand with an improvement in the Danish economy.
Yet the election could well be decided away from the mainland as voters are also casting ballots in Greenland and the Faroe Islands.
Another party that could make gains is the Alternative, a green group, which could tip the balance in favour of the centre-left bloc.
Vote green #Denmark! @alternativet_#dkpol#fv15#election#UffeElbækpic.twitter.com/sSXV3ReoVs

— Work till Late (@worktilllate) June 18, 2015
A major threat to the centre-right opposition could come in form of the Liberal Alliance which is proving popular among younger voters.