What you need to know about the Danish legislative elections
Comments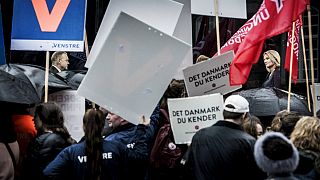 On May 27, Denmark's Prime Minister Helle Thorning-Schmidt called for a general election to be held on June 18. On that day, citizens from Denmark, the Faroe Islands and Greenland will elect their 179 representatives to the Folketing, the country's parliament, located in Copenhagen.
The last general election, on September, 15, 2011, saw the victory of a left-leaning coalition of parties, which supported a minority government with Mrs Thorning-Schmidt as the country's PM.
But tense relations with the Red-Greens (socialist-green) alliance and the departure in January 2014 of the Socialist's People Party fromt he government made ruling the Scandinavian country difficult.
As Danes are heading to the polls, the country is very divided between supporters of the left-leaning red bloc and the right-wing blue bloc. The latter led by several points at the beginning of the campaign, but today pollsters say the race is a dead heat.
Denmark: Tomorrow election #fv15: Blue-block lead: Megafon: 1.4 Greens: 1.4 Epinion: 1.2 Red-block lead: Voxmeter: 0.8 Wilke: 0.6 #dkpol

— twittprognosis/eu (@twittprognosis) 16 Juin 2015
Uncertainty remains high. "Twenty percent of the voters don't know who to vote for on Thursday. Of course, it goes a little bit up and a little bit down all the time — in fact, it's 50-50," Camilla Fjeldsoe, head of Gallup's political division in Denmark told Reuters on June 15.
What are the main parties' programmes ?

Social Democrats
Led by Prime Minister Helle Thorning-Schmidt
Current ruling party, centre-left politics.
Polls give them about 25 percent of the vote against 24.8 percent at the last election.
Wants to increase social spending including on health, childcare and environment by 39 billion Danish crowns (5.2€ billion) by 2020.
On asylum, only temporary residence permits should be given to people who have been personally persecuted.

Social Liberals
Led by Economy Minister Morten Ostegaard
Junior partner in government, centre-right politics.
Only party to propose further cuts in unemployment benefits as a way of encouraging people to work.
Aims to have 3 million people, out of a total population of 5.6 million, employed at all times. Raise pension age to 68 years from 67 today by 2025.
Switch to green energy alternatives and get rid of oil, coal and gas. Targets phasing out of coal within 10 years.
Wants to increase spending in mental health, education and poverty.

The Liberal Party
Led by former Prime minister Lars Lokke Rasmussen
Main opposition, centre-right politics.
Polls give them around 20.5 percent of the vote versus 26.7 percent at the last election.
Wants to set an upper limit for individuals on welfare payments to encourage employment.
Wants to cap spending on the public sector, effectively reducing spending by falling behind inflation and thus gradually reducing the tax burden.
Work permits to be given to people who already have found jobs in Denmark; people from countries with similar cultures and development should have easy access to work.

The Danish People's Party
Led by Kristian Thulesen Dahl.
Right-wing on political issues, left-wing on the economy, has supported the Liberals when they have governed but it has never itself been in coalition.
Wants to follow the UK and renegotiate relationship with the EU and then put it to a Yes-No referendum.
Refugees should only get temporary residence permits and leave Denmark as soon as circumstances allow them to go back to their own country. Wants to limit or delay access to benefits for both non-EU and EU migrants.
Despite Denmark's membership of the passport-free Schengen Zone covering most of Europe, wants to re-establish land-border control between Denmark and Germany to reduce what it says is increased crime and smuggling.
What are the issues of the campaign?
Danish politicians have clashed over whether social spending should be increased or capped, Reuters reports. This was especially true during the first week of the campaign (June 1-7) according to professor Rune Stubager, a political scientist at Aarhus University. The personal trustworthiness, or lack thereof, of the Liberal Party leader and former Prime minister Lars Lokke Rasmussen, damaged by a series of gaffes, was discussed as well.
The second week of the campaign was more focused on immigration, according to the scholar. The issue was put on the agenda by right-wing parties, including the conservative Liberal Party and far-right Danish People's Party, and anecdotally by the appearance of Salafi activists in a show on Danish television.
What is the mood of the Danish electorate?
Dissatisfaction with the political class and lack of trust in the politicians is at an all-time-low, according to a recent survey. About 28 percent of Danish voters said they trust their elected officials, the lowest-ever recorded level. Left-leaning supporters of the red bloc tend to trust politicians more than conservative Danes, with 37 percent and 25 percent trust in their leaders, respectively. The trust levels for these elections have seen a dramatic dive after the 2006, 2007 and 2011 elections, where trust in politicians swung between 60 and 70 percent.

University of Copenhagen professor Kasper Møller Hansen, on political website Altinget.dk and translated by TheLocal.dk, explains the fall by a change in the political culture. "The tone in recent years has become harder and harder," he said. "One accuses the other of broken promises and passive policies and that creates an image in the mind of voters that that's just the way politics works."
For Stubager, a specialist of Danish electoral behaviour, the tone of the campaign was indeed harder. "This is a rather tough and personal campaign," he told Euronews. He explains the lack of trustworthiness of former PM Rasmussen has been used by the left-leaning parties as an asset. The Liberal Party counter-attacked by accusing PM Helle Thorning-Schmidt and her supporters of mud-slinging. For Stubager,"the fact personal qualities – or lack thereof – are taking a central role in the campaign is a new thing".
But for the political scientist, other explanations exist. The scandals marring Rasmussen's reputation as well as legislations passed by the Thorning-Schmidt government, but seen as right-wing by some, have turned off voters from both sides. Eventually, the economic crisis – Denmark was hit hard and still lags behind its Nordic neighbours – damaged politicians' luster, as it created problems they could not readily solve.
What role for the Danish People's Party?
The Dansk Folkeparti is increasingly popular. Last year, the right-wing party won the most votes in European elections, doubling its number of MEPs. The four DF MEPs now sit in the eurosceptic European Conservatives and Reformists group in the European Parliament. Now, polls give them around 19 percent of the vote, versus 12.3 percent in the last election, when DF was ruled by Pia Kjærsgaard.
Such a result would place the anti-immigration party as the third biggest political force in Denmark, toe-to-toe with the Liberal Party. However, despite the reinforced position and the possibility of a return of the conservative-liberal coalition which ran Denmark from 2001 to 2011, DF may not enter the government – limiting itself to a supporting role, like during the coalition.
A couple stumbling blocks remain between DF and a possible Liberal cabinet, among them, the question of the European Union. If the positions are slowing converging, the Liberals want "Denmark to seek to ally itself with Cameron to amend EU rules," Rasmussen told Danish TV, while DF has said it wants a referendum on continued membership of the EU if Britain holds one.
But most important, according to Stubager, is DF's relation to power. According to the political scientist, to join the cabinet is to assume responsabilities in its potential failures. In addition, as DF built itself as an anti-elite political force, participating in the government might alienate its working class voters, ex-urban and rural voters who will see DF as part of the problem.