Moscow's nuclear 'sabre-rattling' is 'unjustified' and 'dangerous,' says NATO
Comments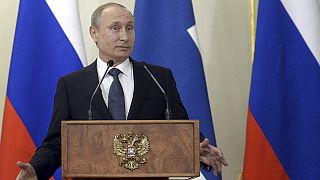 Russia is firing off warning shots, saying that it will be forced to aim its armed forces at any countries posing a threat.
President Vladimir Putin has announced that Moscow is beefing up its nuclear arsenal.
It comes amid US plans to station tanks and heavy weapons in NATO states along Russia's border.
Washington and Moscow are at odds over the Ukraine crisis and sanctions that followed.
"This nuclear sabre-rattling of Russia is unjustified, its destabilising and it's dangerous," said Jens Stoltenberg, NATO Secretary-General.
NATO military commander Philip Breedlove claims Russia's actions in eastern Ukraine pose a long-term security challenge for Europe.
He has been visiting Lithuania, a country which says the American military equipment plans are a necessary deterrent.
US Secretary of State John Kerry thinks Putin's stance could be posturing, but has warned the possible implications are serious.