Thousands flee to Turkey as Kurdish forces push into ISIL's Syrian stronghold
Comments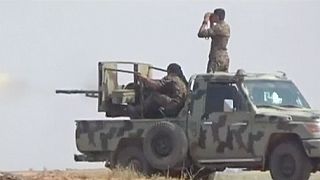 Kurdish forces are continuing their push into ISIL's Syrian stronghold of Raqqa province.
The YPG militia is setting its sights on Tel Abyad, which is in the hands of the self-proclaimed Islamic State.
Taking the town, which is close to the Turkey border, would not only deal a blow to ISIL, it would also help the YPG link up Kurdish controlled areas of northern Syria.
The YPG advance is worrying Ankara. It says Kurdish groups are taking over areas evacuated by Arabs and Turkmen and it fears that might eventually threaten Turkey's borders.
The YPG is also viewed as being part of the PKK, which has fought a decades-long insurgency against Ankara.
Meanwhile, amid the continued fighting and unrest, around 13-thousand people have fled to Turkey over the past week alone.
The border was closed for a few days, but it re-opened on Sunday.
Authorities say they expect as many as 10-thousand more people to cross into Turkish territory.