South Korea reopens schools and doubles MERS quarantine in stricken hospital
Comments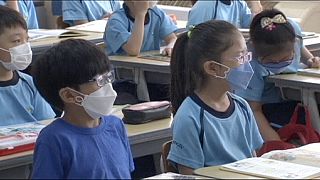 It is back to school for South Korea's children after thousands of educational institutions reopened on Monday (June 15), with extra precautions, after the authorities decided there was no risk of children contracting the MERS virus.
Four weeks into the outbreak the spread of the virus appears to be slowing, with just five new cases bringing the total to 150.
"I'm a little worried about classes resuming, but I hope our children can enjoy school life again in a secure environment," said one mother at the school gates, where everyone had their temperature taken before being allowed in.
It is the largest-ever outbreak of the disease outside Saudi Arabia, and with all cases being traced to medical units, four hospitals have been shut down, with over 5,500 people newly under quarantine. That total now stands at around 10,000.
One hospital, Samsung Medical Centre in Seoul, has 70 of the total cases, and it, along with public transport and other areas of high pedestrian circulation, are being intensively cleaned. A sixteenth victim was reported dead on Monday (June 15).