Nepal reopens historical sites following deadly earthquakes
Comments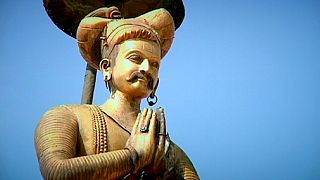 Monday, June 15, marked an important and significant moment for Nepal.
Less than two months after two devastating earthquakes struck the Himalayan nation, hundreds of damaged monuments were reopened at heritage sites.
The cash-strapped government decided to go ahead with the reopening, in spite of UNESCO warnings.
The UN agency urged caution when visiting due to the "precarious" state of many of the sites.
Tourism specialist Bill Calderwood spoke at the opening:
"And they (people around the world) have been following the challenges the country has faced since the earthquake, but many people around the world will be delighted to see the recovery and the resilience of the Nepalese people."
Guiseppe was visiting some of the sites.
"It seems like a safe place, but people have to rebuild everything here," he said. "For sure. There (is) too much stone around, dust. There is a lot of work to do."
Visitors are being given safety helmets to wear in places the government thinks may be risky.
Prior to the first quake, over 1,000 tourists visited this town alone each day. They subsequently fled the country, having a huge knock-on effect on hotel reservations, trekking trips and other aspects of the country's tourism trade.
Almost 9,000 people died in the quakes, many crushed beneath buildings and other structures.